Specifications
Rating Input: AC100~240V Frequency 50/60Hz
Rating Output : DC12~60V 600W, see below tables for details
High Power Factor: > 0.98
High effiency: 95%@220V input, full load output
Output protection: overvoltage, overcurrent, temperature, and short circuit
Operating temperature: - 10 ℃~+40 ℃, working humidity<+90%
Storage temperature: - 40~+70 ℃, storage humidity 0% - 95%
Cooling method: fan cooling
Comply with energy efficiency: ERP/CEC-VI standards
Mean time between failures: 30000 hours
Dimension and weight: 240x117x66mm/1.6kg
Safety certification: CB CE cTUVus
G600-xy 600W power adapter is a high-performance and highly reliable product. Its input voltage range is 100~240Vac, which can meet the voltage standards of various countries and regions. Output power is 168W, output voltage is 12V~60V, defined in below P/N parameters table. Power factor is as high as 0.98, and its efficiency reaches 95.0%. at 220V input full load condition. It also features low standby power consumption and low leakage current, making it a very environmentally friendly power adapter.
It has high-precision voltage adjustment and line voltage adjustment, which can ensure the accuracy and stability of the output voltage and current. The startup time is only 300ms, the rise time is 15ms, the hold time is 15ms, and the ripple voltage is 1.5% or 100mV , all of which meet the requirements of various application scenarios.
This power adapter also has a variety of protection mechanisms, including overload protection, overvoltage protection, short circuit protection, and overtemperature protection. These protection mechanisms can effectively avoid the failure and damage of the power adapter, thereby extending its service life.
Operate normally within the operating temperature range of - 10~+40 ℃, withstand vibration resistance of 5MM/50HZ/600S, and impact resistance of 1m height. It also has excellent performance of anti-static grade of 8.0KV and isolation and withstand voltage of 3000V.
Finally, this power adapter has passed various safety certifications such as CB, CE, cTUVus to ensure its safety and reliability. The average time between failures is 30000H, which can meet the requirements of various application scenarios.
G600-xxxyyy series products, "xxx" represents the output voltage, with a value range of 240 to 600, 240 representing 24.0V. "yyy" represents the output current, 200 means 20.0A. yyy = 600/xx.x
Features:
Rating Input: AC100~240V Frequency 50/60Hz
Rating Output : DC24~60V 600W, see below tables for details
| | | |
| --- | --- | --- |
| Part Number (Models) | Output Voltage | Output Current |
| G600-240200 | 24.0 V | 20.0A |
| G600-360160 | 36.0 V | 16.0A |
| G600-480125 | 48.0 V | 12.5A |
| G600-600100 | 60.0 V | 10A |
High Power Factor: > 0.98
High effiency: 95%@220V input, full load output
Output protection: overvoltage, overcurrent, temperature, and short circuit
Operating temperature: - 10 ℃~+40 ℃, working humidity<+90%
Storage temperature: - 40~+70 ℃, storage humidity 0% - 95%
Cooling method: natural cooling, no fan
Comply with energy efficiency: ERP/CEC-VI standards
Mean time between failures: 30000 hours
Dimension and weight: 240x117x66mm/1.6g
Safety certification: CB CE cTUVus
Specifications: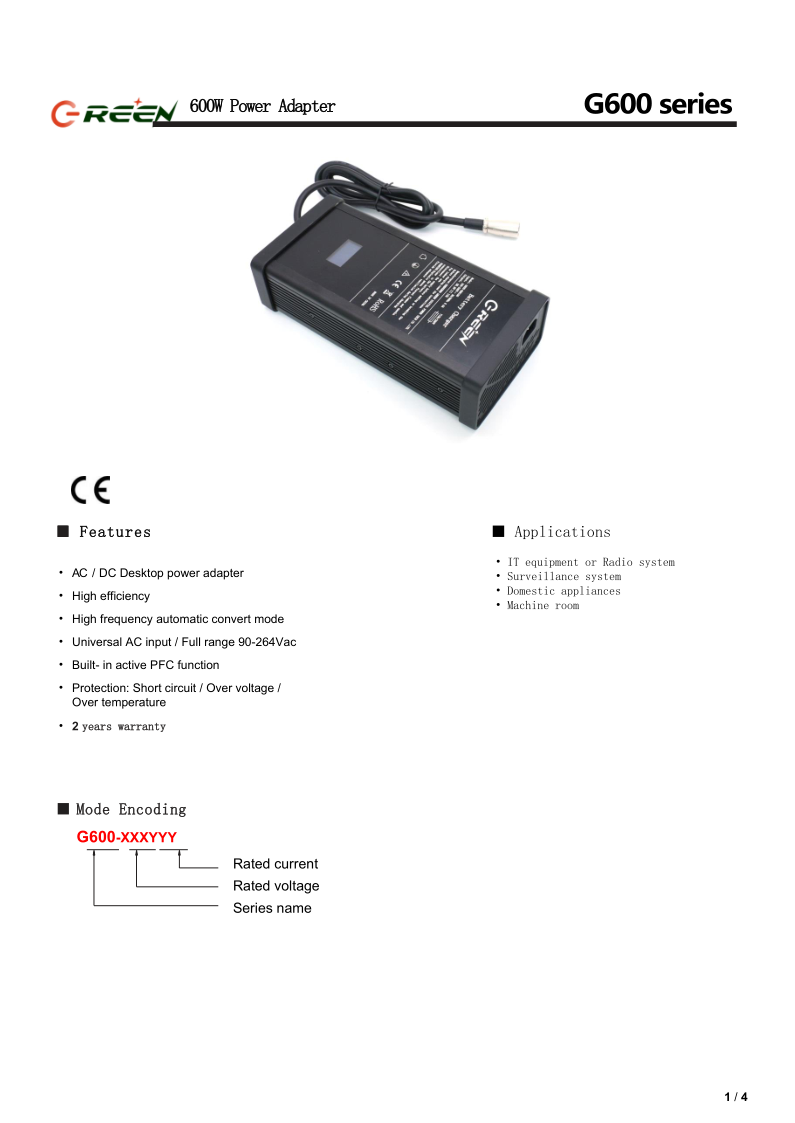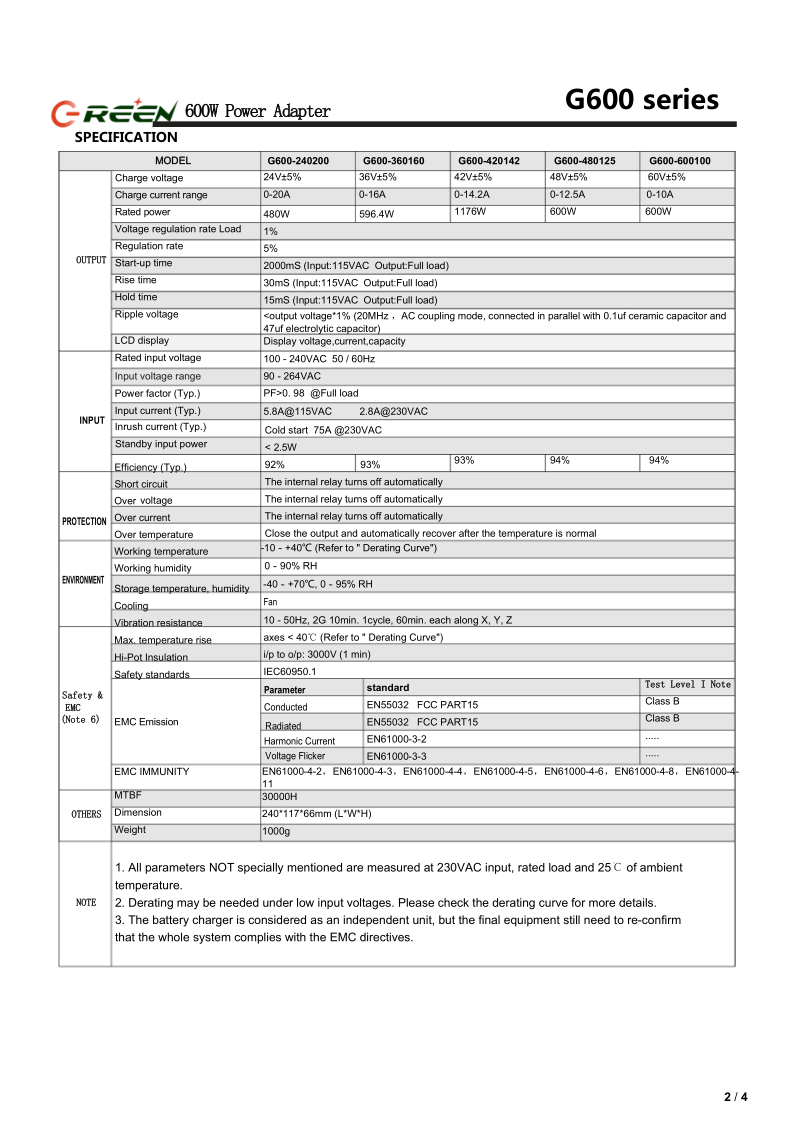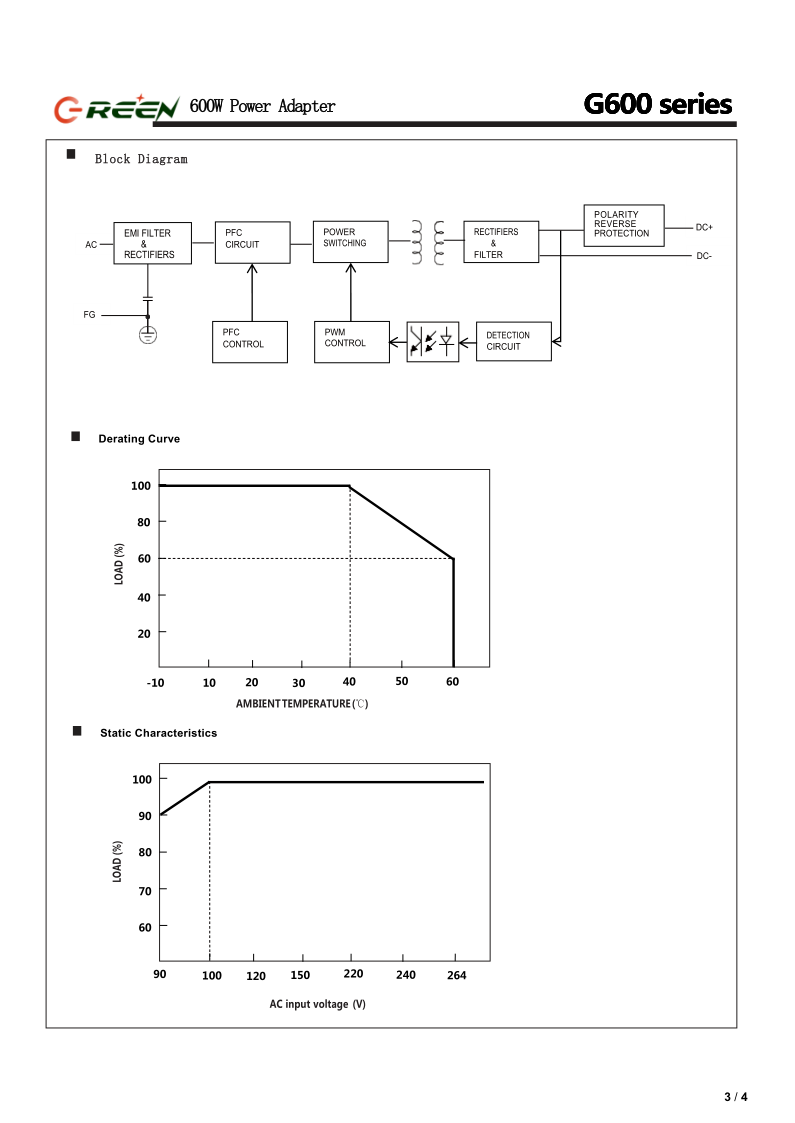 Safety Approvals (parts):